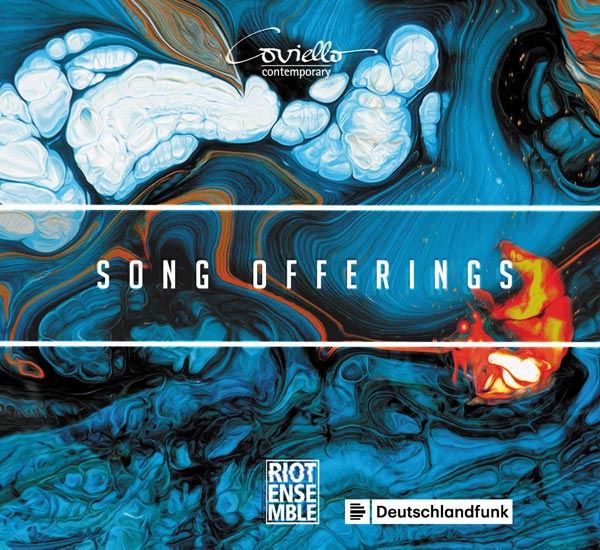 Riot Ensemble
Kate Walter ⋅ flutes
Ausias Garrigos ⋅ clarinets
Pétur Jónassson ⋅ electric guitar
Adam Swayne ⋅ piano
David Merseguer-Royo ⋅ percussion
Fontane Liang ⋅ harp
Sarah Saviet & Kaya Kuwabara ⋅ violins
Stephen Upshaw ⋅ viola
Louise McMonagle ⋅ violoncello
Marianne Schofield ⋅ contrabass
Sarah Dacey ⋅ soprano
April Frederick ⋅ soprano [4–9]
Aaron Holloway-Nahum ⋅ conductor
Song Offerings is Riot Ensemble's fourth studio album, and a co-production between Coviello Contemporary and Deutschlandfunk. Riot's previous album, Speak Be Silent, was internationally acclaimed, and named one of 2019's best recordings by Alex Ross in the New Yorker.
These works are brought to life spectacularly by the Riot Ensemble. Its performances are uniformly excellent, combining precision and warmth, understanding and assurance. The recording is incredible – close, clean and big, uncluttered with no hint of brittleness in the upper registers – allowing the manifold sonic nuances to breathe. A most impressive release.
– Lisa Mackinney, Limelight, July 2019
The present CD was recorded at Deutschlandfunk Cologne, and presents four 'song cycles' from British composers. The title track is Jonathan Harvey's masterwork Song Offerings. This piece formed the centre of Riot Ensemble's first professional performance in 2012, and is presented here with a sister piece composed by Riot's artistic director and conductor Aaron Holloway-Nahum. Plane Sailing has the exact same instrumentation as Harvey's work, and is dedicated to him. Alongside these two works is Laurence Osborn's Micrographia (with text by Joseph Minden, commissioned by Riot Ensemble in 2017), and intersperced throughout the CD is Samantha Fernando's song cycle for Soprano and Cello (How Many Moments Must, Utterance, and The Half Moon).
Song Offerings: British Song Cycles
1.
Samantha Fernando (b.1984) How Many Moments Must
Text by E.E. Cummings (1894–1962)
1:10
2.
Aaron Holloway-Nahum (b.1983) Plane Sailing
Text by Sasha Dugdale (b.1974)
10:36
3.
Samantha Fernando Utterance
Text by Samantha Fernando (b.1984)
2:46
Laurence Osborn (b. 1989) Micrographia
Text by Joseph Minden (b.1990)
4.
First Figure – Needle
2:48
5.
Second Figure – Salt
1:07
6.
Third Figure – Urine
1:36
7.
Fourth Figure – Blue Mould
4:22
8.
Fifth Figure – Wings of Flies
3:53
9.
Sixth Figure – Of Multitudes of Small Stars
7:19
10.
Samantha Fernando The Half Moon
Text by Christina Rosetti (1830–1894, text pg. 18)
4:11
Jonathan Harvey (1939–2012) Song Offerings
Text by Rabindranath Tagore (1861–1941)
11.
Mov. I
3:20
12.
Mov. II
2:32
13.
Mov. III
4:48
14.
Mov. IV
7:38
Total time:
58:16