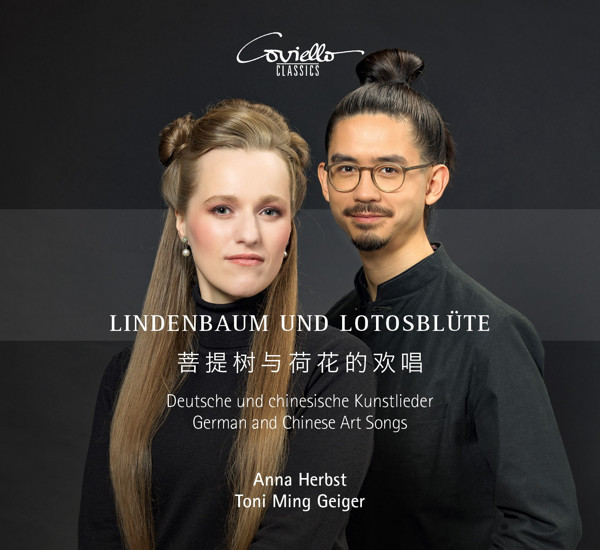 LINDEN TREE AND LOTUS BLOSSOM
German and Chinese Art Songs
Asian musical culture remains largely unfamiliar in the Western world: occasionally, a taste of exoticism is presented under the category Peking opera, but that is mostly as far as it goes. Two young artists aim to change this situation: Anna Herbst and Toni Ming Geiger combine delicate musical jewels from Central Europe and the Far East. They have selected the lied genre as their field of cultural encounter in which the German Romantic period plays such a prominent role with its famous protagonists including Schubert, Schumann (both Robert AND Clara) and Mahler. Herbst and Geiger evoke a breathtaking range of expressive images in their compilation ranging from the praise of spring flowers, a moonlit night and an evening among flowering apricot trees, not to mention the perennial themes of yearning love, heartache and the pain of separation which permeate both such otherwise distant cultures.
1.
ROBERT SCHUMANN (1810 – 1856)
Jasmine bush | 茉莉花丛
0:57
2.
FOLK SONG FROM JIANGSU
Jasmine | 茉莉花 (江苏民歌)
Arr.: He Fang & SHEN Wujun
2:15
3.
HUANG ZI (1904 – 1938)
Three wishes of the rose | 玫瑰三愿
2:31
4.
RICHARD STRAUSS (1864 – 1949)
I wanted to tie a bouquet | 我想扎一束小花
3:09
5.
FOLK SONG FROM QINGHAI
Four Seasons | 四季歌
Arr.: Tang Qijing
3:01
6.
GUSTAV MAHLER (1860 – 1911)
I breathed a linden fragrance | 我嗅到温柔的芳香
2:24
7.
LUO ZHONGRONG (1924 – 2021)
Apricot blossoms in the twilight | 杏花天影
2:44
8.
CLARA SCHUMANN (1819 – 1896)
The silent lotus flower | 沉默的莲花
3:08
9.
LUO ZHONGRONG (1924 – 2021)
Lotus for the distant beloved | 涉江采芙蓉
2:26
10.
ROBERT SCHUMANN (1810 – 1856)
Moonlit Night | 月夜
3:45
11.
VOLKSLIED AUS DER MONGOLEI | FOLK SONG FROM MONGOLIA
Shepherd's Song | 牧歌
2:03
12.
HUANG YONGXI (1917-2003)
Song of longing | 怀念曲
3:49
13.
FRANZ SCHUBERT (1797-1828)
The Fisherman's luck in love | 渔夫的幸福爱情
7:56
14.
FOLK SONG FROM YUNNAN
A babbling brooklet | 小河淌水 ( 云南民歌 )
Arr.: YIN Yigong und Li Yinghai
3:10
15.
FRANZ SCHUBERT
To be sung on the water | 水上吟
3:37
16.
FOLK SONG FROM SICHUAN
When does the acacia bloom? | 槐花几时开
Arr.: DING Shande
2:23
17.
FRANZ SCHUBERT
The Linden tree | 菩提树
4:44
Total time:
54:11