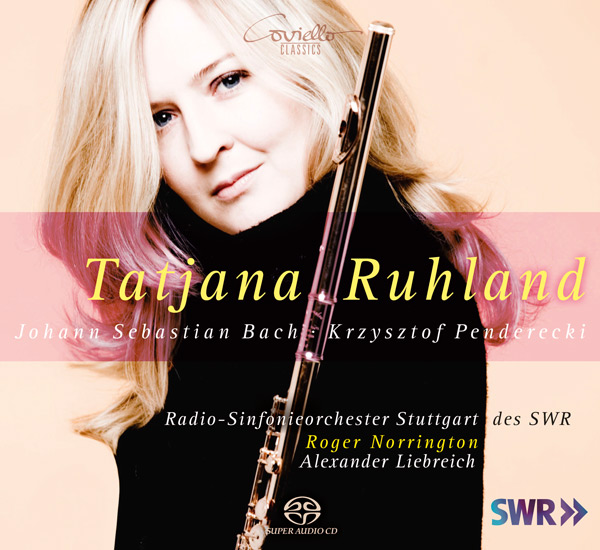 Johann Sebastian Bach
Krzysztof Penderecki
Johann Sebastian Bach wrote works in a wide variety of genres, more than can readily be categorized; within that vast oeuvre, the flute often plays a leading part. At the beginning of the 18th century, the transverse flute was a fashionable instrument among music lovers and Bach took due account of prevailing trends. One of the best known of his compositions featuring the flute in a solo role is the B minor Orchestral Suite BWV 1067. Krzysztof Penderecki's Concerto per flauto ed orchestra da camera picks up the virtuoso tone. Tatjana Ruhland and the RSO Stuttgart under Roger Norrington and Alexander Liebreich present an intense musical old–new conflict.
Johann Sebastian Bach (1685-1750)
Orchestral Suite No. 2 in B minor for flute, strings & b.c., BWV 1067 *
1.
Ouverture
8:00
2.
Rondeau
2:10
3.
Sarabande
2:47
4.
Bourrée I -Bourrée II
2:02
5.
Polonaise – Double
3:21
6.
Menuet
1:22
7.
Badinerie
1:31
Krzysztof Penderecki ( *1933)
8.
Concerto per flauto ed orchestra da camera (1992)
24:09
Johann Sebastian Bach
Sonata for flute solo in C major, BWV 1033
9.
Andante – Presto
1:26
10.
Allegro
2:23
11.
Adagio
2:02
12.
Menuet I – Menuet II
2:49
Johann Sebastian Bach
Partita for flute solo in A minor, BWV 1013
13.
Allemande
3:38
14.
Corrente
3:44
15.
Sarabande
5:51
16.
Bourrée Angloise
3:05
Total time:
1:10:23
* Christian Schmitt · harpsichord