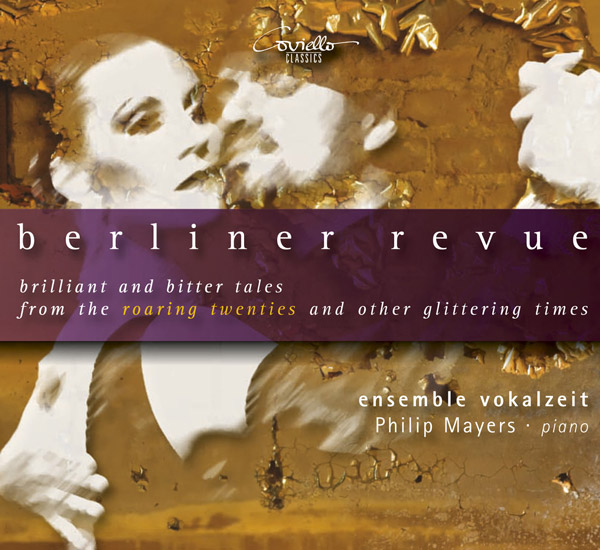 Berliner Revue
Brilliant and Bitter Tales
from the Roaring Twenties
and Other Glittering Times
European capital of the golden 1920s was undoubtedly Berlin. One of the main attractions was the nightlife with its numerous clubs, cabarets and revues. An effective mixture of nostalgic flair, modern directness and fine irony characterizes the songs that the men's quartet Vokalzeit chose for their program.
Denn die vier Sänger … harmonieren prächtig miteinander und verfügen über die nötige Portion musikalischen Witz … eine prall gefüllte CD mit Hörgenuss.
| | | |
| --- | --- | --- |
| 1. | Tango Berlin | 3:23 |
| 2. | Veronika | 2:35 |
| 3. | Was macht der Herr da bei Fräulein Gerda | 3:05 |
| 4. | Wochenend' und Sonnenschein | 3:12 |
| 5. | Pack die Badehose ein | 1:58 |
| 6. | Kauf dir einen bunten Luftballon | 3:38 |
| 7. | Ruth | 3:19 |
| 8. | Ausgerechnet das Tanzen | 2:02 |
| 9. | Ich küsse Ihre Hand, Madame | 4:11 |
| 10. | In einer kleinen Konditorei | 3:11 |
| 11. | Wenn ich vergnügt bin, muss ich singen | 2:53 |
| 12. | Die Liebe in der Milchbar | 3:10 |
| 13. | Lass mich dein Badewasser schlürfen | 3:13 |
| 14. | Rasputin | 2:26 |
| 15. | Guck doch nicht immer nach dem Tangogeiger hin | 3:23 |
| 16. | Stroganoff | 6:05 |
| 17. | In der Bar zum Krokodil | 4:25 |
| 18. | Salome | 5:16 |
| 19. | In der Nacht ist der Mensch nicht gern alleine | 2:36 |
| 20. | Der arme Vampir | 2:52 |
| 21. | Ständchen | 3:15 |
| 22. | Das Schlossgespenst | 3:40 |
| | Total time: | 1:14:02 |