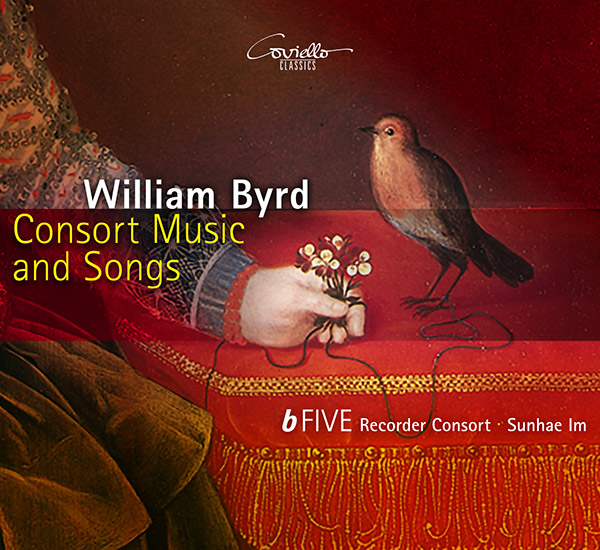 CD-Tip in Bayern 4 Klassik
Since her European stage debut in the year 2000, South Korean soprano Sunhae Im has proven her artistic versatility in a multitude of international productions. Her agile voice was particularly convincing in the stage works of Handel and Vivaldi. The present CD with the bFIVE Recorder Consort shows that she can do more than just voice acrobatics and baroque opera. Together they play William Byrd's songs with subtle and elevating authenticity.
Die technische Darstellung der Musik (ist) makellos, erfreulich auch die Durchhörbarkeit des Klangbilds, so wird es dem Hörer möglich, Byrd und seinen Interpreten genussvoll durch das Labyrinth der musikalischen Linien zu folgen.
In den tiefen Registern klingt es gelegentlich fast nach einem Streichinstrument. Man muss schon genau hinhören, um festzustellen dass da grade ein Blockflötenensemble musiziert. Dieser homogene und dabei doch farbenreiche Klang, das ist das Blockflötenensemble bFIVE… Und noch eine Klangfarbe hat sich das Ensemble mit ins Boot geholt: der klare und unverschnörkelte Sopran von Sunhae Im fügt sich ganz wunderbar in das Stimmengemisch ein.
William Byrd (1543-1623)
1.
Fantasia III
3:16
2.
Come woeful Orpheus
3:06
3.
In nomine I
1:58
4.
Ah silly Soul
3:28
5.
In nomine II
2:46
6.
In nomine V
1:53
7.
An aged Dame
1:20
8.
Fantasia I
2:05
9.
My mistress had a little dog
5:44
10.
Browning
4:02
11.
When first by force
4:04
12.
Fantasia II
4:26
13.
And think ye Nymphs – Love is a fit of pleasure
1:22
14.
Though Amaryllis dance in green
5:19
15.
In nomine IV
1:52
16.
In nomine III
2:32
17.
Susanna fair
5:12
18.
How vain the toils
2:46
19.
Pavan
3:10
20.
Galliard
1:22
21.
Ye sacred Muses
3:09
Total time:
1:04:54