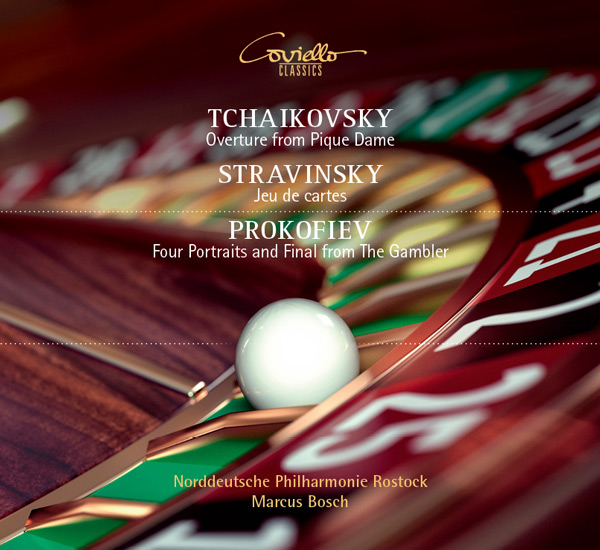 TCHAIKOVSKY Overture from Pique Dame
STRAVINSKY Jeu de cartes
PROKOFIEV Four Portraits and Final from The Gambler
Die Verheißung des Glücks und die Gefahr des Untergangs liegen selten so nah beieinander wie im Glücksspiel. Im 19. und frühen 20. Jahrhundert war die Faszination besonders verbreitet, mit Karten, Würfeln oder anderen vom Zufall beeinflussten Spielgeräten das Schicksal herauszufordern. Russen waren offenbar besonders empfänglich für die gefährlichen Reize: Alexander Puschkins Erzählung "Pique Dame" oder Fjodor Dostojewskis Roman "Der Spieler" zeugen davon als literarische Spuren; Mit Peter Tschaikowsky und Sergej Prokofjew ließen sich zwei prominente Landsleute zu Kompositionen inspirieren. Igor Strawinskys "Jeu de cartes" komplettiert das spielerische Kompendium, das zugleich einen faszinierenden Blick auf die Stilentwicklung von der Hochromantik zur speziellen russischen Art der Moderne ermöglicht. Marcus Bosch und die Norddeutsche Philharmonie präsentieren all das mit funkelnder Brillanz – und natürlich mit viel Spiel-Freude.
PJOTR ILJITSCH TSCHAIKOWSKY (1840 – 1893)
1.
Ouvertüre zur Oper Pique Dame (1890)
3:19
IGOR STRAWINSKY (1882 – 1971)
Jeu de cartes Ballett in drei Runden (Suite 1937)
2.
I
Première donne
5:33
3.
II
Deuxième donne
9:52
4.
III
Troisième donne
8:20
SERGEJ PROKOFJEW (1891 – 1953)
Vier Porträts und Finale aus der Oper Der Spieler op. 49
5.
I
Alexis
5:06
6.
II
La Grand-Mère
5:25
7.
III
Le Général
3:25
8.
IV
Pauline
5:39
9.
V
Dénouement
4:41
Gesamtspielzeit:
51:22