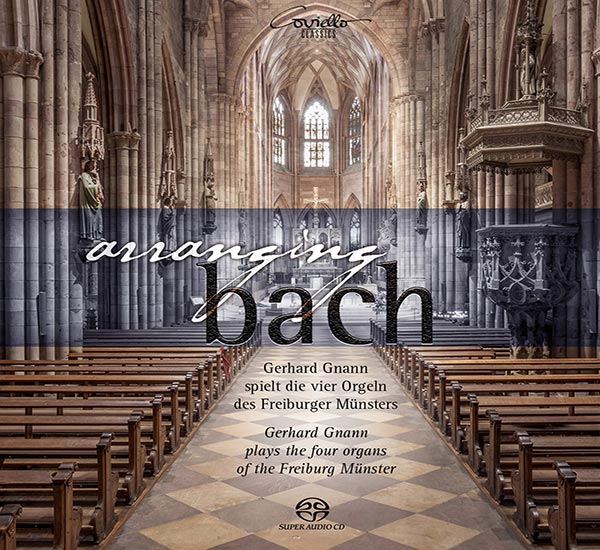 Arranging Bach
Gerhard Gnann ⋅ Orgel


Bestenliste 1/2015
der Deutschen Schallplattenkritik
Seit 300 Jahren müssen Johann Sebastian Bachs Werke alle nur denkbaren Bearbeitungen über sich ergehen lassen; ihrer Qualität aber hat es nicht das Geringste anhaben können. Erst recht natürlich nicht, wenn sie für das Instrument bearbeitet werden, das für den Altmeister immer eine besondere Rolle spielte, die Orgel. Er selbsthat damit angefangen und die bekannten Schübler-Choräle in eine Orgelfassung übertragen; Komponisten wie Charles-Marie Widor oder Sigfrid Karg-Elert nutzten im frühen 20. Jahrhundert die Möglichkeiten romantischer Orgeln für imposante Neufassungen diverser Bach-Evergreens von der Matthäuspassion bis zur berühmten Geigen-Chaconne. Erstmals konnten für diese Aufnahme wieder alle vier Orgeln im Freiburger Münster von einem Spieltisch aus gleichzeitig gespielt werden; Gerhard Gnann gelingt es, ihre imponierende Klangfülle mit Bach in voller Pracht zu entfalten.
Johann Sebastian Bach (1685-1750)
Präludium und Fuge für Orgel in d-Moll /
Prelude and Fugue for organ in D minor
1.
Präludium / Prelude – aus: / from:
Sonate für Violine Solo Nr. 1 g-Moll /
Violin Sonata No.1 in G minor, BWV 1001
(arr.: Emmanuel Le Divellec)
3:21
2.
Fuge d-Moll / Fugue D minor – aus: / from:
Praeludium et fuga, BWV 539
5:27
Sechs Choräle verschiedener Art / Six Chorales
of Various Kinds (Schübler-Choräle / Schübler
Chorales)
3.
Wachet auf, ruft uns die Stimme, BWV 645
3:52
4.
Wo soll ich fliehen hin, BWV 646
1:34
5.
Wer nur den lieben Gott lässt walten,
BWV 647
3:27
6.
Meine Seele erhebt den Herren, BWV 648
2:07
7.
Ach bleib bei uns, Herr Jesu Christ, BWV 649
2:32
8.
Kommst Du nun, Jesu, vom Himmel herunter,
BWV 650
3:28
Charles-Marie Widor (1844-1937):
aus: / from: Bach's Memento (1925)
9.
Marche du veilleur de nuit
Choralbearbeitung aus der Kantate /
Chorale arrangement from the cantata BWV 140
"Wachet auf, ruft uns die Stimme"
4:38
10.
Pastorale
3. Satz aus der Pastorale für Orgel / 3rd movement
from the pastoral for organ, BWV 590
3:50
11.
Mattheus-Final
Schlusschor aus der Matthäus-Passion / final
choir from the St Matthew Passion BWV 244
"Wir setzen uns mit Tränen nieder"
6:51
Sigfrid Karg-Elert (1877-1933):
12.
Air:
2. Satz aus der Suite D-Dur / 2nd movement
from the suite D major, BWV 1068
6:01
Choral-Improvisation und Fuge für Orgel op. 65 /
Chorale Improvisation and Fugue for organ, Op. 65
nach Bachs Motette / after Bach's motet BWV 225
"Singt dem Herrn ein neues Lied":
13.
Choral / Chorale
4:36
14.
Fuge / Fugue
2:59
Arno Landmann (1887-1966):
15.
Chaconne d-Moll / Chaconne D minor
4. Satz aus der Partita Nr. 2 d-Moll für Violine
solo / 4th movement from the Partita no. 2
D minor for violin solo, BWV 1004
18:05
Gesamtspielzeit:
1:12:55
Die Titel 1-8 werden auf der Langschifforgel gespielt.
Gerhard Gnann spielt die vier Orgeln des Freiburger Münsters.